Here we will be reviewing gear that we USE. We will be starting with what we have with us on this trip. If you are a dealer or manufacturer and have a piece of gear you think we might like and want to have us review, email us at carolandguyATigotabikeDOTcom
____________________________________________________________
Jandd Low Rider Front Racks
Price paid: $50
Grade: A
Link: Jandd low riders
We bought these racks new from a dealer on eBay. They were the last essential piece of gear we needed for the trip. We paid $50 a piece for them, which was a fair price.
The racks themselves are one piece, no assembly required. They come with a small hardware kit that included four small hex bolts for your braze ons and four appropriately sized clamps with rubber inserts for forks without braze ons. The racks mount at the bottom to the rear braze on eyelets. The mid fork mounting is along a slot for adjustability. I found I needed to use washers for these mounting points because the hex bolts were not large enough to cover the width of the slot. On my 520, I had to find a long enough nut and bolt as my mid fork braze ons aren't tapped and the hole goes all the way through the fork, outside to inside.
The racks are painted black. The paint has already scrapped off in places where the panniers attach. It's no big deal, just mentioning it.
So far they seem sturdy enough, with four mounting points and the crossover bar, which seems to add lateral stability.
All in all, they seem like a good value for the money. I see no real deficiencies.
They get an A.
Below: You can see the washer I used and how I had to run a bolt all the way through and use a nut on my 520.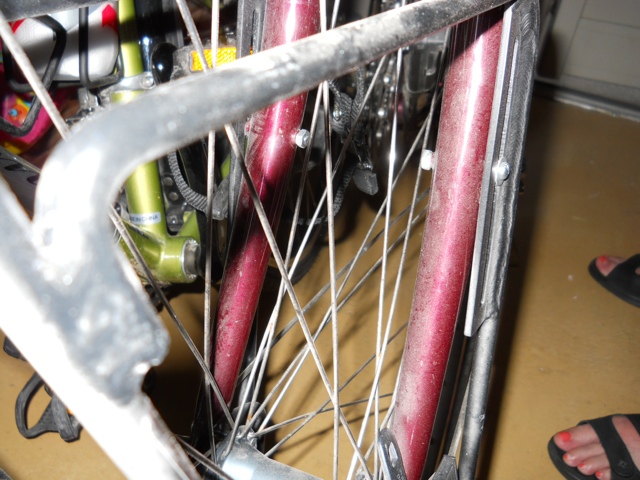 Axiom Seymour Transit Series Panniers
Price Paid: $80/pair (iirc)
Grade: A-
Link: Axiom Seymour's at Amazon
I've had my Axiom bags for at least the last two tours and they seem to be holding up fine. It appears Axiom is no longer making these and that's a shame. Good bang for the buck. as I said, I've used them for at least the past two seasons for long touring, daily commuting and grocery getting. They have held up just fine. I like the top loading single compartment. There is a drawstring at the top which really helps to contain and stabilize oversized loads. The top cover is elastisized and really creates a nice neat fit when closed. They are not water proof, but as an old backpacker, I'm used to keeping all my gear in ziplock and trash bags anyway.
The attachment system is the simple hook on top, bungee cord on the bottom. This setup allows the bags to flop around at the bottom over bumps and stuff. I wish I could remedy that, but it's just part of the system and why they are so affordable. The top hooks are rubberized… Nice touch there. Helps to keep the bag gripping the rack better and leave no scratches.
There Is a small outside rear pocket. It's convenient for small stuff, I guess, but for me it's really more difficult to use than anything. It opens in a weird envelope fashion (see the pic below) where the top cover gets in the way of getting things in and out. It's where I usually carry a travel size fifth of Beam, and even then, the top doesn't close completely. A slightly larger pocket or more of a plain flap cover or even just a slightly larger main compartment without an outside pocket would have been better.
These bags make great rear bags and would be pretty dang big, but doable, on the front.
A minus. Good bang for the buck, outside pocket is lacking, decent enough attachment system.