Guy and I were delighted and honored to be interviewed by Diane Lees and featured on The Outspoken Cyclist Radio Program to discuss bicycle touring on the Ohio To Erie Trail.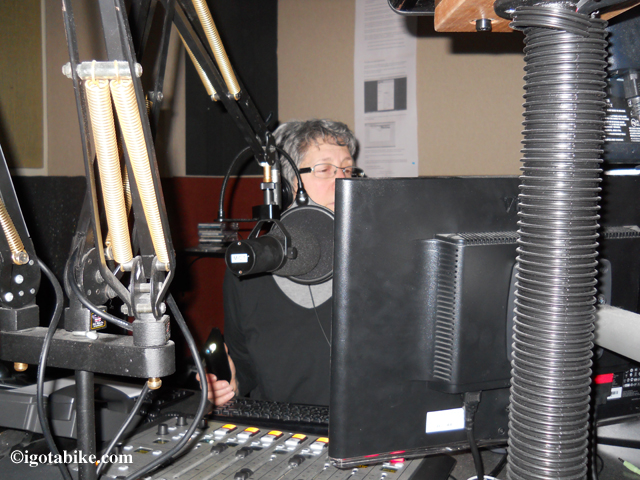 Diane's radio program, The Outspoken Cyclist, is a 1-hour radio show with interviews, commentary, ideas, advocacy, and everything (anything) connected with bicycling. The program is a weekly feature on WJCU at John Carrroll University and airs live in northeast Ohio on Saturday evenings at 5:30 on 88.7 FM and is available to listen or download anytime via the internet.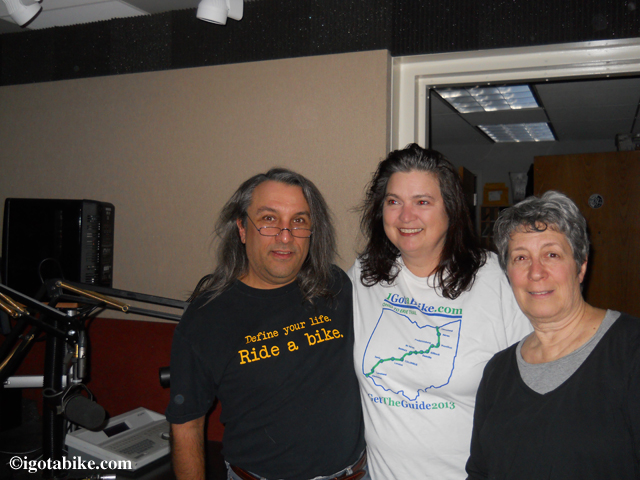 We were part of Show #182 that aired on February 15, 2014. The other guests were Michael Carroll of the New York Times Travel Show and Peter Vos of Tulip Cycling in the Netherlands. We were interviewed at the radio studio to discuss the new Ohio to Erie Trail Printed Maps and The IGotABike Ohio To Erie Trail Guide. It was a little tricky because there was a power failure and the recording equipment was improvised and we were sitting in the dark, using a flashlight to see! Regardless, Diane is a pro and she made us feel welcome and the conversation was easy going.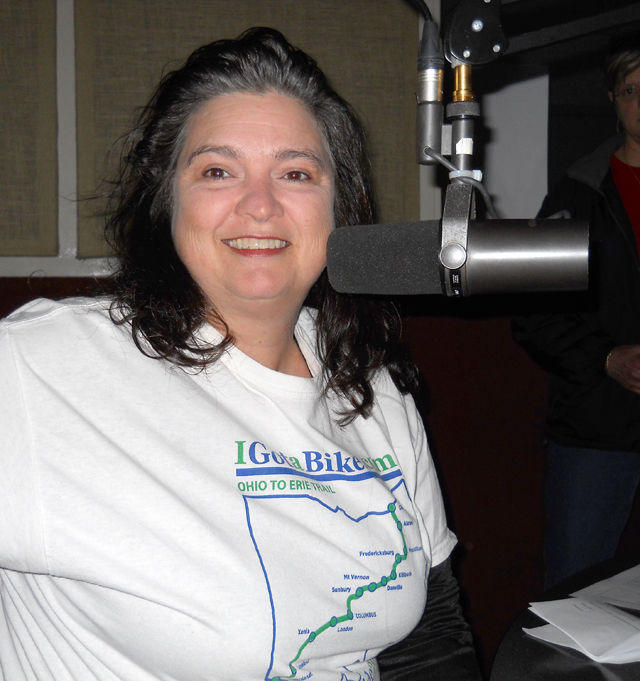 Diane asked many questions about how we went from riding our bikes around town to across the state, and back, and how that evolved into the IGotABike website, the Trail Guide, and the new Ohio To Erie Trail printed maps. We had a great time and are grateful for the opportunity to talk about bicycle touring. So many people have the dream of going on a bike tour and this program will help people have the courage to live the dream.
You can listen this show and hundreds of archived shows on The Outspoken Cyclist website and there is a lot to see on the Outspoken Cyclist Facebook page. Don't forget to "like" the page.
WJCU is a noncommercial FM broadcast station owned and operated by John Carroll University. We were featured during their annual fundraising event. Diane's program is interesting, informative and fun. How about sending them a buck or two so they know we like the program. Donate here.
Sincere thank you to Diane and all the crew at JCU who know how to get it done–with or without power!