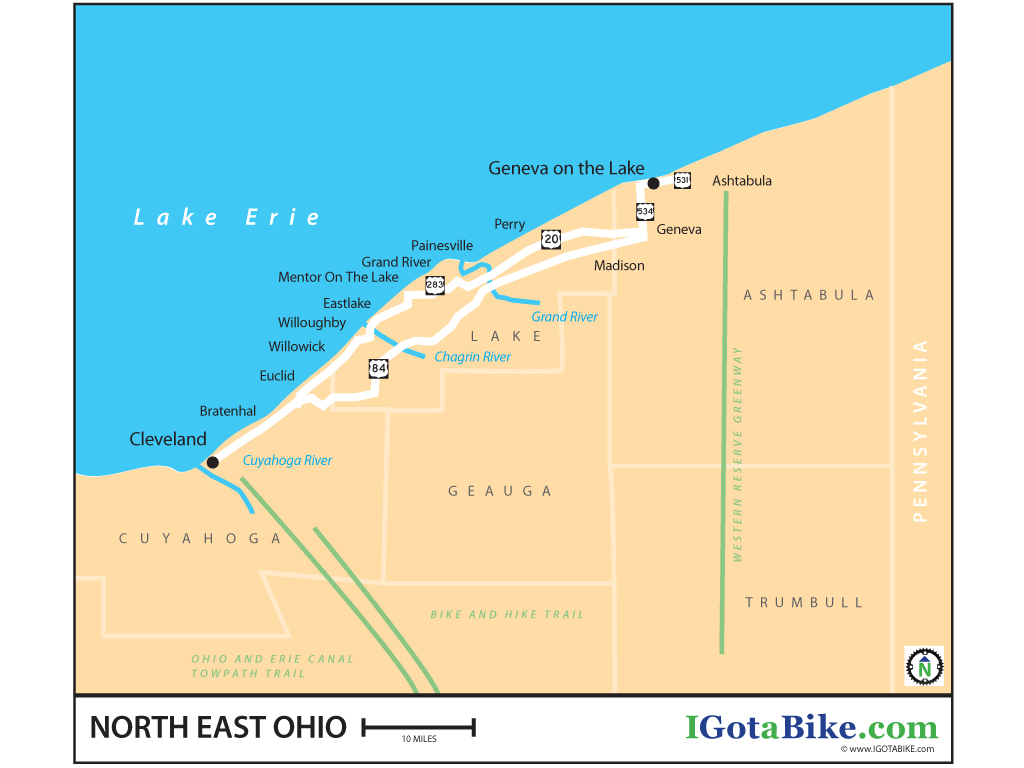 Guy and I are always looking at maps of Ohio and scheming on bicycle tour locations. We can see great potential for a loop from Cleveland to The Western Reserve Greenway with a return via the Bike and Hike Trail or The Ohio and Erie Canal Towpath Trail.
The most challenging part would be getting from Cleveland to the northern terminus of the Western Reserve Greenway in Ashtabula so we did a practice ride out and back this weekend. It was spectacular.
Friends of ours have a cottage in Geneva on the Lake which is about 10 miles short of the Greenway trailhead. This weekend was the 50th Geneva Grape Jamboree so it was a "grape" excuse for a ride.
We departed from downtown Cleveland following the Cleveland Lakefront Bikeway, a signed route that follows Cleveland's 17-mile Lake Erie shoreline. It consists of both off-road paths and on-street, signed routes. The 4.5 mile section along North Marginal Road is really bumpy and tore up. There is a sidewalk on the western end that is better than the road. At East 55th the route turns to trail and takes you through Gordon Park.
The trail ends and the signed route continues on Lakeshore Blvd through Bratenhal. The trail picks up again through Euclid Beach Park and ends at Neff Road. From here we used SR 20 and Beverly Hills Drive to get to "the high road." Basically we followed SR 84 with a few zigs and zags to avoid trouble spots.
It was a fantastic route that was easy to follow and only had a few hills. The trickiest spot is in Painesville where you need to cross the Grand River. We used Madison and picked up 84 again at Vrooman Road.
We were surprised that route never really turned rural. One suburb blended into the next residential area and small town. Madison was really neat with a park and pavilion, a brewery, steakhouse and shops. There were a few farms and many orchards and garden centers mixed in along the way. We knew when we were getting close to Geneva when we were overwhelmed by the scent of grapes. It about knocked us off our bikes.
SR 534 goes north and takes you right past Geneva State Park and Campgrounds. It dead ends at SR 531 where you will see the Geneva State Park Lodge and Geneva On The Lake. Well known as "Ohio's First Summer Resort," Geneva On The Lake was originally established as a hot spot in the early 1900's by  John D. Rockefeller, Harvey Firestone and Henry Ford.
The Strip is only about a mile long but is packed with restaurants, bars, arcades, a water slide, put-put and a beach. It is an old fashioned good time. It is very seasonal and most of the places close mid-September after the Thunder on the Strip motorcycle rally.
The ride from the westside of Cleveland to Geneva On The Lake was 67 miles and took us all day. We loved it. We left at 9 am and arrived at 6 pm. We were traveling lite and carrying only emergency gear. Our friend Nancy was carrying all our stuff in her car. It was pretty funny when we realized that we would arrive hours before her and we didn't have anything but the sweaty bike clothes we were wearing. We stopped at Family Dollar and both got brand new "outfits," including shoes, for less than $20! (sorry, no pics!) Gives me ideas for how to pack for future bike tours. We have learned that even the tiniest towns in the most rural places have a Family Dollar.
We headed back on Sunday morning and decided to take a different way to make a loop. We followed SR 20 through Madison and Perry. It was nice, 4-lane, sometimes a center turn lane, and a wide berm. There was plenty of room but we encountered some uncooperative motorists. In Painesville we picked up Lakeshore Blvd, SR 283 and followed it all the way back to Cleveland picking up the bikeway at Neff Road. The route took us through Grand River, Mentor On The Lake, Willoughby, Eastlake, Willowick, Euclid and finally back to Bratenhal and Cleveland. All of it was nice and flat and there were bike lanes through Eastlake and Mentor. In a few spots you could see Lake Erie and the marinas at the Chagrin River and Grand River crossings were neat to see.
The northern route was 5 miles shorter and felt like it was downhill. 130 miles round-trip. It was a superb ride. Even though, of course, there was a headwind, both directions. Much of the way on the return route was heavy retail areas and traffic could be an issue. Lucky for us it was a Sunday and everyone was watching the Browns beat the Bengals and the roads were empty.
Now that we know the way, and know we can handle 70 miles of on-road urban riding, we want to continue this route east to pick up the Western Reserve Greenway or on to Presque Isle in Erie, Pennsylvania.