A perfect day! The best scrambled eggs, ever. This place should be named scrambled egg inn. Back to sleep…more scrambled eggs…back to sleep then the tub.
The salt water hot tub and swimming pool are fantastic. They make everything better. I was in that hot tub then the warm pool 25 time today. Floating like an angel. Perfecto! It stormed, or rained, all day and I could see the snapping flag, and threatening clouds, and the occasional Amish buggy from the hot tub. Nice!
Dryed off long enough to get the laundry going and get ready to walk into town for lunch…oh another storm…oh another nap!
When we finally walked to town we met up with our friend Jen who runs the Holmes County Trail. She clued us in on the construction on RT 62 that will block our way tomorrow. She said "turn right at the white fence at the bottom of the hill." Funny thing is, we think we remember the white fence!
Then we met Nathan from Colorado. He was pedaling, fully loaded, and storms were threatening. We called out to him to see if he needed anything and he said, "I recognize you, I have been on your website!" He is riding the Ohio to Erie Trail south to north and left Cincinnati the same day we left Cleveland. He has been pushed by all the wind we have been facing head-on. We had lunch together. It was great. He has traveled and lived all over the world and chose to spend his summer off from teaching mechanical engineering bicycling in Ohio. He was riding a very cool belt bike. Guy took a photo—we will post it at next chance.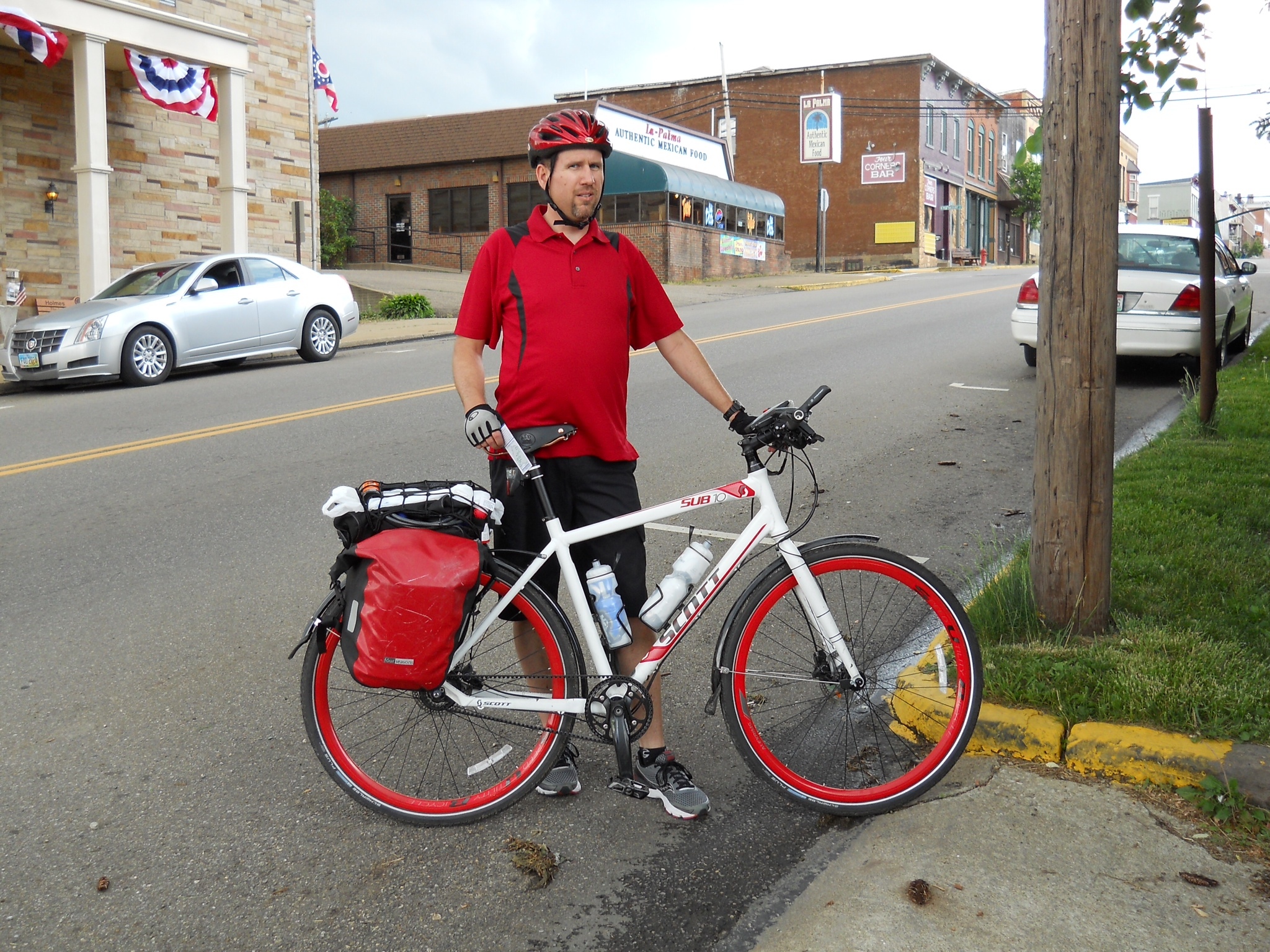 Tomorrow we are headed to Kokosing Valley Campground and Canoe in near Howard. I spoke to the owner who said they are packed (its Memorial Day Weekend) but they will make a place for us. Yay! Forecast is high 54, low 39, 20 mph wind, oh my!
Its cold outside now. Usually we need to move at first light to beat the heat. This time we will need to stall until it warms up. Wow! A tour of extremes! Yesterday as I was climbing Moreland Road in the heat I was dreaming of mailing away my long sleeves and long pants. Now I hope they are enough!
Hot tub and scrambled eggs!