Wow. Another trying day. It was so blasted hot and windy again. We were in a headwind all day and it was mid 80s. Right now we are safe and sound in a Best Western suite in a place without a name roughly 12 miles east of CanalFulton. I have the air condition in our room set at 65.
The Towpath trail is dirty and dusty and the vibration makes even the soles of your feet hurt. It's a pretty ride though. We left Stow early trying to beat the heat, but to no avil. We took many breaks and drank lots of water, probably measured in gallons, between the two of us.
We stop in a tiny greasy spoon in Barberton, named Cissy's, and bough some carry out burgers. It was inhabited by mostly half crazy retired local men and we heard a lot of stories as we chatted with them while we waited on our food. It was like something out of a movie. They helped themselves to more coffee from behind the counter and the very skinny young girl with too much mascara running the counter knew them all by name. She was very nice to us and fastidious in her work.
We left Cissy's and rode our bike to the center of town where they have a large park, Lake Angela. Locals were feeding those pesky dang Canda Geese and the ducks. There were two swans also and a great blue heron in the middle of the whole noisy bunch of them begging for bread right along with the rest. Strange.
We wanted to take a nap after lunch, but decide that the weather was increasingly threatening and that we should move on.
As we pedaled south from Barberton, the trail crosses several bridges. These bridges generally have a little bump as you get on and off of them. It was hitting one of the bumps that Carol had her, um, crash.
Seems she hit the bump, which in turn caused her font pannier to to depart from her front rack, which in then caused the pannier to jam against her front fender, in turn jamming the fender aginst the front wheel, which in turn stopped the front wheel from actually turning, which in turn, turned over the bicycle.
Whew. I watched it all happen in slow motion. Carol was smart enough to grab the side of the bridge, which checked the full rotation of the bike. She' just fine now, but we were both a bit shook up and she has some really great bruises on each thigh from her handlebars.
The repairs were made in about half an hour. We took a nice pic of her depositing the destroyed fender into a trash can.
We rolled on.
We stopped in Canal Fulton to charge up for our final sprint to the hotel. At Cherry Street Creamy, we had ice cream and then a hot dog. Our mission from there was roughly 12 mile up Portage road, up hill most of the way on a two lane road with some pretty aggressive traffic at 50 mph. We hung tough and our new gears really helped out. It was slow going, but we persevered and are here now. carol just walked in with some Dortmunders and we are going to order a pizza. If its gonna be this hot again tomorrow, we will need to make a new plan, as we are now miles from the trail.
Carol just said the guy at the front desk just saw some lightening, so I am glad we are indoors tonight!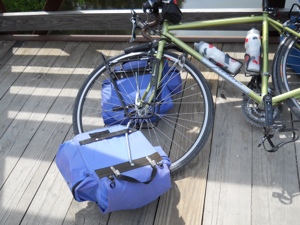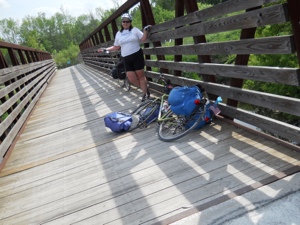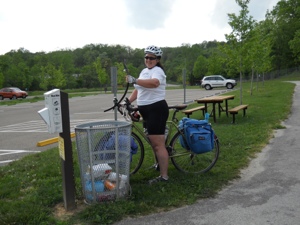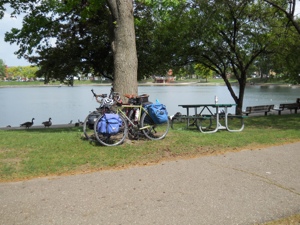 Added by Carol:
The crash was no pain, just upsetting. One tiny flaw in a monumental and spectalar trail effort by Summit county. You need to ride to believe it.
We stayed across the street from Belden Mall at a Best Western which was nice. About 10 miles from the trail. There was also a  motel 6 and a microtel. Rolling hills a few steep ones. Probably not bad on a good bike day. It was 7 pm, 84 degees, Hot head wind.
We went there because the Hampton Inn Massillon was sold out.