Planet Bike Superflash Stealth Tail Light Review
MSRP: $28.99
SKU: #3034-1
Link: http://ecom1.planetbike.com/3034_1.html
I've had a lot of tail lights over the years and they have been more or less effective. Mostly less. What I have found that made them the most effective is that you actually USE them. To actually USE them, you have to have them with you, especially for those times when you stay out riding later than you actually planned for. To always have your tail light with you, the easiest thing was to always leave it attached to your bike or in your saddle bag. Following this train of thought has lead me to find that a lot of tail lights were just pure crap, eventually leaving me without protection when I needed it most. I had lights that I would keep in my saddle bag and they would accidentally get turned on while being jostled around while riding. When I needed the light, I'd pull it out only to find dead batteries. Grrr. I've tried keeping the batteries separate. That worked for a while, but then there would be a mechanical failure of some sort. A common one was a weak attachment clip. Hit a bump in the road and there goes your tail light, smash, on the pavement. A lot of times I could swing around and pick it up (PITA), but there were times when I just couldn't get to it before the next wave of traffic and I had to watch my tail light (read: money) be crushed to dust under car tires before my very eyes. Then there were the tail lights that ate batteries. Or the ones where the cover would pop off and the batteries would fall out.
All that has changed for me. When I bought my Trek 520 used, it came with a small box of assorted bicycle stuff; a crappy headlight, cheesy lock and this curious little tail light, the Planet Bike Superflash Stealth Tail Light.
The Planet Bike Superflash Stealth Tail Light, is fairly small and light. Getting it second hand, there was no instruction sheet and it took me forever to figure out how to turn the dang thing on, even after visiting the Planet Bike website. There is a small button integrated into the bottom of the actual body of the unit. Push it once and you get a three LED alternating flash. Push it a second time and you get one steady burning LED. A third push turns it off.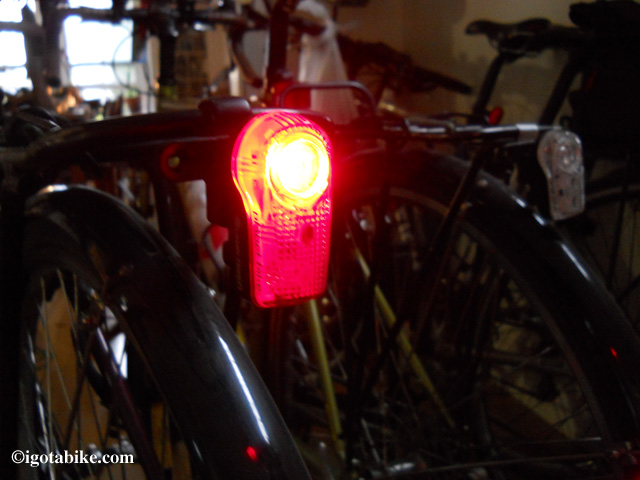 Warning! Don't look at this LED directly! It's like a laser beam! This tail light is REALLY bright! No Joke. So far that makes this a winner over all of my other ex-tail lights. It's also virtually impossible to turn on accidentally and it's way brighter than any other I've had in the past. BtW- It runs on two AAA batteries. I am still using the same generic ones that came with mine, so I'd say it has a pretty good battery life, too. There's a small notch in the upper right of the housing where it meets the lens where you can insert a screwdriver, or a dime or some such to pop the unit open to get to the batteries.
As far as the attachment, it has a clip on he back that will clip to a piece of clothing or gear pretty darn securely. The real cool part is the quick disconnect bicycle mount. I had to buy mine separately (ebay, about $5 iirc) because mine was second hand. Once this piece is secured to your bicycle, the tail light isn't going anywhere, unless you TAKE it off! The quick release is easy to use- just push a tab and slide the light out of the mount. It uses the same clip that you would use without the mount.  I have mine mounted to the back of my rack and its been there for the past 1500 miles. It has never come off or failed me in any way. Within a few weeks of using mine, we ordered a second one to put on Carolyn's Jamis and it's been there all summer. This is hands down the best tail light I have ever had. A+.
Update, Sept. 2013:
I've now had my superflash on my bike for a full two seasons of riding- nearly 4000 miles. I am happy to report that I have had ZERO trouble with it and it still has the original batteries! Yikes! What a product!
Oh, and here's a link to the bracket:
http://ecom1.planetbike.com/3108.html