Traveling to a bicycling destination with your bike and your car is great way to get started bicycle touring. You can get a feel for long distance riding without the full blown challenges of touring. With your car nearby you can relax and really experience the joy of bicycle riding and staying overnight.
One of our favorite places for car camping with a bicycle is in north central Ohio where you have easy access to the Richland B & O Bike Trail, The Kokosing Gap Trail and The Holmes County Trail.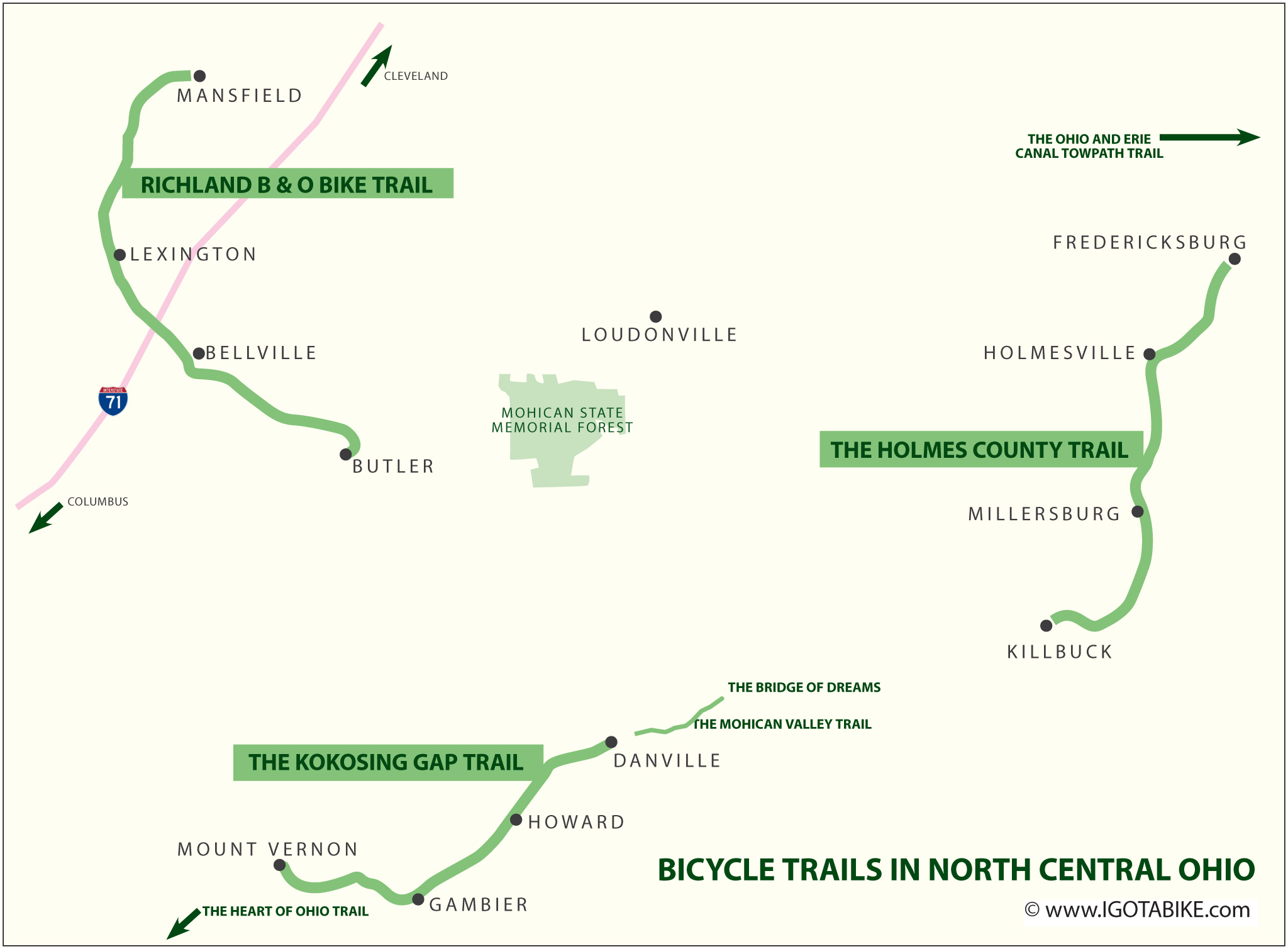 It has been a few years since Guy and I have ridden the B & O Trail but it continues to be one of our favorite trails of all time. It is  a rail trail built on the former Baltimore & Ohio Railway route. It is a fantastically beautiful trail that travels through farm fields, cow pastures, woods and quaint towns. It has spectacular iron bridges and other remnants of the Baltimore & Ohio Railway which happens to be Guy's favorite railroad. When he was a kid he modeled the Baltimore & Ohio Railway in HO scale. We still have some of the hand-painted cars, engines and hand-made buildings.
We have many fond memories of the B & O trail from when we first starting riding together and exploring the possibilities of bicycle touring and bicycle camping. When we celebrated out 10th wedding anniversary we went on a 10-day-long car camping, bicycle riding, outdoor living hiatus. We drove our tiny car loaded down with camping gear and with our bikes strapped on the back with a borrowed bike rack. I guess our old truck was out of commission because I remember this being a bit of a challenge as it was our first experience at car camping with an actual car. It is much better with a truck!
We stayed at the Butler KOA which is a great place with lots of bonuses. We have stayed there many many times. Our plan was to camp there for a few days then wander off to another great spot. We were happy, so we just stayed once we realized we were in driving distance to some of the best bicycle trails in Ohio.
The campground is located near The Mohican State Memorial Forest and there is easy access to many tourist destinations such as canoeing on the Mohican River and exploring Amish country and, of course, our favorite, the bike trails!
It is an easy drive to reach trail heads for the Richland B & O Bike Trail, The Kokosing Gap Trail and the Holmes County Trail. Back then the hills looked foreboding and impossible to connect the trails by bike. It is many years and many miles later, and we have ridden the Ohio to Erie Trail so I suspect we may have a different opinion of the hills and narrow back roads if we visited there again.
The strategy is to stay central, near the southern end of the B & O Trail to make it easy to drive to The Kokosing Gap Trail and The Holmes County Trail. Besides the Butler KOA there is also camping at Mohican State Memorial Forest and about a dozen other campgrounds in the area that cater to canoeist in the Loudonville area. There is a really nice Lodge at the Mohican State Memorial Forest and hotels near Interstate 71 if that is more your style. The River Trail Crossing campground is adjacent to The Richland B & O Bike Trail between Bellville and Butler. We have never stayed there but it looks like a great place for a RV or a simple place to land after riding the trail.
The Richland B & O Bike Trail is  paved for 18 miles and connects Mansfield, Lexington, Bellville and Butler, in North Central Ohio near Interstate 71 at exits 165 for Butler and 169 for Mansfield.
The B & O Bike Trail is pleasant and easy going and the little towns pop up just when you need a break or something to eat. There is a bicycle shop in Lexington and a giant Walmart and other retail-o-rama where the trail crosses under I-71.
The Kokosing Gap Trail is a paved 14-mile rail trail that connects Mount Vernon, Gambier, Howard and Danville. It is perfect. The Kokosing Gap Trail has iron bridges and other artifacts of the Pennsylvania Railroad especially in Gambier where there is a rest stop with an engine, a caboose and more. We have been told that there is a great barbecue place in Howard. You will know you are in Howard when you go under a fabulous arched bridge. There is a tiny road north of the arch that takes you up to the town.
The Holmes County Trail is really unique as it sits in the heart of Amish country and the trail is shared with Amish buggies. One side is for bikes and the other is for horses and it flips back and forth in places. It is a little tricky and passing is different than other trails but just remember that bikes always yield to horses and any other trail users. The Holmes County Trail is paved for 15 miles and connects Fredericksburg, Holmesville, Millersburg and Killbuck. Lems Pizza in Frederiskburg has great food and ice cream. There is a baseball field with a picnic shelter and restrooms just around the corner behind the school. There are signs in Holmesville showing the way to restaurants. There is a restaurant in The Millersburg Hotel and many fast food options at the famous "Amish Walmart" right along the trail south of Millersburg. Just beyond the end of the trail in Killbuck there is a tiny restaurant on Main Street with yummy food and ice cream.
If these three trails are not enough for you it is not too much further to the east where you can access the southern end of The Ohio and Erie Canal Towpath Trail out of Bolivar or Navarre. The Mohican Valley Trail connects Danville and Brinkhaven and The Bridge of Dreams but the trail is not paved and is best suited for a mountain bike or horse. To the south of Mt. Vernon you can access the newly paved portions of the Heart of Ohio Trail.
So pack your bags, load up your bike and hit the road, then hit the trail. Its great way to experience being away from it all with your bike and your sleeping bag.