A few days ago we rode the Lorain County section of North Coast Inland Trail from Elyria, through Oberlin and on to Kipton. It's approximately 13 miles long. It is very smooth and very flat. It is seal coated in many places. The trail runs east / west and has mile markers indicating your direction. Nice.
The trail head in Elyria was a little difficult for us to locate for some reason. It is at the north west corner of Gateway Boulevard and Woodford Avenue. To access the trail from the parking lot, you must ride north up the sidewalk a few hundred feet. At W 3rd Street turn left (west) and cross the bridge. It's kind of strange, because W 3rd is a one-way heading east, but there is a marked bike lane on the south side shoulder. It is plenty wide enough, but riding facing traffic is just weird. Anyway, you are only on that section for maybe a quarter mile until the real trail departs from the road on the left. You can't miss it.
The trail follows the right of way of an old railroad and there are still large old carved stone markers along the path. The trail runs pretty uneventfully to Oberlin. There are multiple road crossings, many of which have limited sight lines. Use caution and your ears. Stop, look, listen.
All of the roads are marked, their names stenciled onto the trail at the crossings.
Oberlin is a college town, so the trail gets used a lot. The trail skirts the southern edge of town. There is a good opportunity for stopping where it crosses Main Street. There is a McDonalds, a drug store and a small restaurant. We got carry out from the restaurant and took it across Main to the old Oberlin train station. There is a picnic table around the back, under a nice shady tree with a nice community garden to look at.
West of Oberlin, the trail takes a slight road detour. Heading west, the Oberlin Country Club will be on your right (watch out for stay golf balls!). The route turns south onto Pyle-Amherst Road for less than 500 feet, then west on W. Hamilton St. (Township Hwy. 122) for maybe 1/4 mile. The trail picks up again on the south side of Hamilton. There are bike route signs clearly marking the way.
When you get to Kipton, there is a nice park with a gazebo, shelter and picnic tables. There is also a drinking fountain and a port-o-potty. There is no place to get food.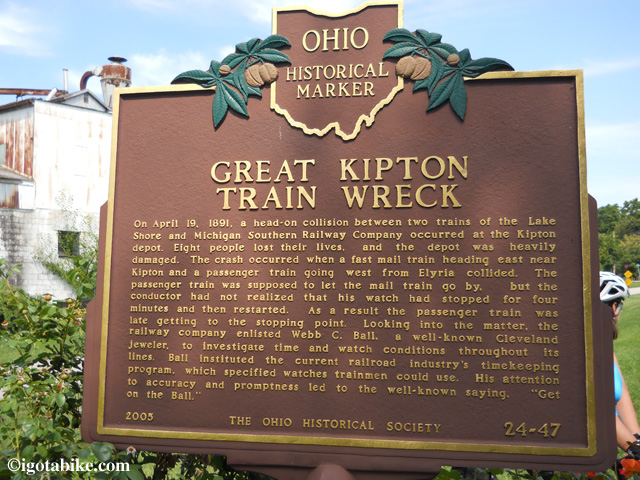 The trail continues past the park and dead ends at Baird Road (Township Hwy. 47). At that point we went road riding.
The roads in the area are great for riding and many of them are included in the Backroads and Beaches Bicycle Route. There are many opportunities to create loops with the trail. There is also the possibility of using the trail for an over-nighter, as there is a campground very near. A short over nighter like this might be useful for trying out touring for your first time or for testing new equipment. The campground is called Schaun Acres and is just a few short and pleasant miles of road riding away from the trail. To get there from the end of the trail, turn left (south) onto Baird Road, which is part of the Backroads and Beaches Route. Follow Baird south. Cross Oberlin-Norwalk Road (RT 20). Continue south on Baird. At Lagrange-Richfield Road (RT 303), turn left (east). Schaun Acres Campground will be 1/4 mile down on the left (north) side of the road. We rode into the campground and looked around a bit, but we didn't stay there. It does look nice, and the pool looks great.
Note: In several places we saw signs that indicated the trail closes at 11 pm on weekdays and midnight on the weekends, so overnight parking maybe an issue.
Overall, the Lorain County section of North Coast Inland Trail is smooth, flat, well maintained and has good signage.
Note: The west end of the North Coast Inland Bike Trail in Kipton is about 15 miles north of Findlay State Park where there is camping and a beach. There are 3 or 4 other campgounds in the area.