Riding west from Cleveland into Lorain County is a great bicycle route.
Route Level: intermediate to advanced
Guy and I live very close to some fantastic bike trails that usually take us south. It is very easy for us to get to the Ohio and Erie Canal Towpath Trail, The Bike and Hike Trail and the Cleveland MetroParks Emerald Necklace trails in the Rocky River Reservation and these are our everyday picks for riding. Last weekend we caught a break in the unusually hot weather with favorable winds so we decided to head west for a quick overnight bike tour. Guy reviewed the campground here.
Even though we were less than thrilled with the accommodations, we still had a great time and we will repeat this ride. There are other great destinations in the vicinity that make this an excellent route. Findley State Park, The North Coast Inland Bike Trail, and The Beaches and Back Roads bicycle route are all nearby. You could also access the Adventure Cycle Northern Tier route that travels east to west along Lake Erie.
In short we used Franklin and Hilliard to head west and get through Lakewood and continued on Hilliard through Rocky River, Westlake and North Ridgeville. We used Bradley Road and Island Road to go south to get to RT 303 in Grafton. On the return we used Island Road and Osbourne Road to get to Sprague Road which took us into Olmsted Falls and to Prospect Road which took us into the Cleveland MetroParks Mill Stream Reservation where we headed north through the Rocky River Reservation to get back home. We used the NOACA maps to find our way. Here is quick overview map I designed to show you how we did it. Click the map to make it larger.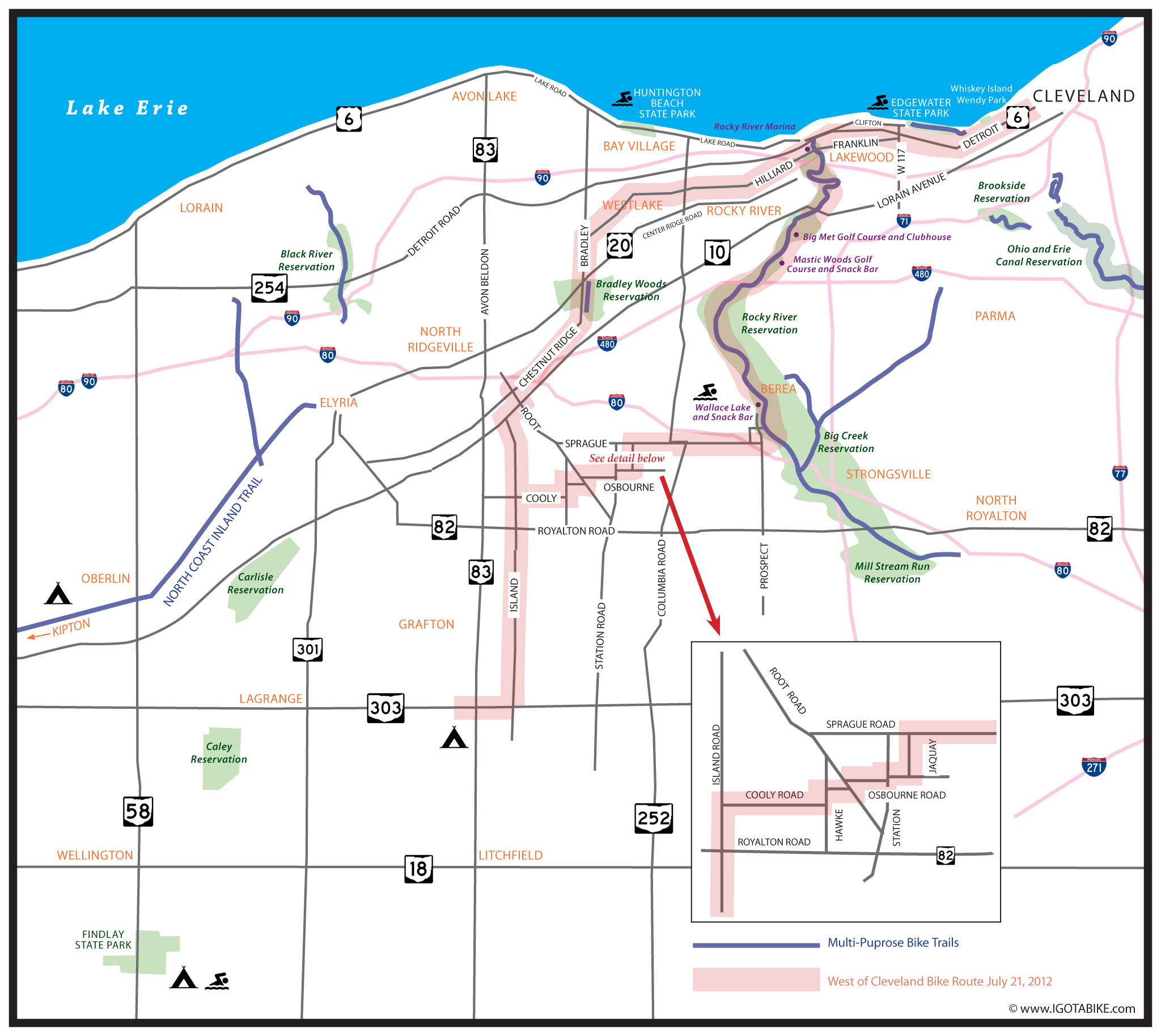 From downtown Cleveland use the Veterans Memorial Bridge to cross the Cuyahoga River from Superior Avenue on the east side to Detroit Avenue on the west side. There is a bikeway on the north side of the bridge with a fantastic view and benches with shade at the peak. As you approach Detroit there are usually a lot of pedestrians and one spot where a sidewalk blindly meets the bikeway. Use caution.
Continue on Detroit Avenue and enjoy the beautiful views of Lake Erie. The large patch of green you will see across the Shoreway is Whiskey Island and Wendy Park. When you get into Lakewood and beyond West 110 you will need to head south 3 blocks to pick up Franklin Avenue. West 116 is good choice. (West 117th is usually heavy with traffic) Head west on Franklin Avenue which is nice and wide and perfect. Franklin Avenue dead ends into Hilliard Avenue at the intersection with Madison Avenue. Make your way on across the bridge on Hilliard Avenue as it takes you over the Cleveland MetroParks Rocky River Reservation. For the next few miles the traffic is a bit heavy as you are right next to I90 and just south of a giant retail complex on Center Ridge Road. If you are ready for some refreshments the Rocky River Brewing Company is near the intersection of West 210 / Wager Road and Center Ridge Road. Soon Hilliard Avenue settles down as it passes beautiful homes and gardens. There is a bike lane between but is really not needed because the road is so wide (four lanes, divided) and the traffic is light. Just past Clague Road is the entrance to Clague Park on the right where there are bathrooms, water, picnic shelters and a swimming pool. A few more miles is Crocker Road and access to Crocker Park, a retail and restaurant megaplex to the north. Continue west on Hilliard Avenue until it dead ends at Bradley Road and turn left to go south. You will pass the Cleveland MetroParks Bradley Reservation.
There is a bike trail for a couple of miles on Bradley for the length of the park that will allow you some leisurely time off road and out of traffic.
You will soon cross out of Cuyahoga County and into Lorain County and Bradley Road becomes Chestnut Ridge Road. Turn left on Root Road and then a right on Lorain Avenue RT 10 for a short distance to turn left to go south on Island Road. At the intersection of Island Road and RT 82, in the town of Midview, there is a Dairy Queen, a convenient store and an IGA. Just south of 82 you cross the railroad tracks. Use caution these are the main tracks and the trains are going fast! I was probably too close in this photo. On the other side of the tracks there is new pavement! Very smooth and nice!
Continue on Island Road to RT 303 and turn right. There is a tiny hill on 303 only worth noting because it is the ONLY hill on this entire route and you are in flat farm country now! At RT 83 turn left to reach the campground–its just ahead about 200 feet on the left. It is about 12 miles further to the south and west to reach Findley State Park where there is camping and a beach. We have camped there (by car) many times and we love it. Bring the poison ivy soap! There is another campground west of Oberlin which is a quaint college town and the North Coast Inland Bike Trail passes through with Elyria to the north Kipton to the south. The Beaches and Back Roads bicycle route also passes through Oberlin.  
On our return trip we retraced our route by going north on 83, east on 303, north on Island and just past RT 82 turned right on Cooley Road which dead ends at Hawke, turn left. Within sight is Osbourne Road where you turn right. Follow Osbourne Road as it dog legs– turn left, turn right, across Roote Road and Station Road where there is a convenient store. When you get to the railroad tracks turn turn left on Jaquay to get to Sprague Road and turn right. At the intersection of Sprague Road and RT 252 Columbia Road there is a gas station. Follow Sprague Road and immediately after crossing the bridge over I80 turn left on Fair into the neighborhood. The second street down is Meadow, turn right. Cross Prospect and pick up the bike trail at the entrance to the Mill Stream Run Reservation. At the bottom of the hill is Valley Parkway and a latrine. Turn left and head north on the bike trail. Less than a mile down you will come to Wallace Lake which is a swimming beach and there is a refreshment stand. There is a water fountain right on the bike trail opposite Wallace Lake. For more refreshment options turn right at the stone bridge to go into Berea where there is a grocery store and the
Cornerstone Brewery
. To continue, follow the bike path north as it crosses Bagley and runs along the road and under a bridge and turns right to go past Berea Falls. Continue north on the bike trail and you will pass several picnic areas with latrines and just north of Cedar Point Road there is a latrine with a water fountain. Just across the river is the Rocky River Nature Center that is air conditioned and has real bathrooms and an ice cold drinking fountain. The Mastic Woods Golf Course is just to the right of the bike trail at Puritis Road and there is snack bar. Just beyond that is the Big Met Golf Course where there is a club house with ready to carry out or made to order food and beer and air conditioning. About four more miles on the bike trail and you will come to the northern end. At the bottom of the hill on the left is the Rocky River Marina where you can get food and beer and sit on the patio and watch the boats. At the top of the hill you are at the west end of Lakewood. Turn right onto Detroit and follow it around the bend and turn right onto Riverside Drive. Turn left on Madison Avenue to get to the intersection with Hilliard which becomes Franklin when you bear left at the light. Follow Franklin through Lakewood and turn left to go north on West 116 to get to Detroit and turn right to get to downtown Cleveland. 
This was a fantastic route! Give it a try and let us know how you like it!