NOTE: This description was originally posted with a typo. This route follows "County Road 6" not "State Route 6"
When following the Ohio to Erie Trail there is a road route that connects Killbuck and Brinkhaven. Killbuck is at the southern end of the Holmes County Trail. Brinkhaven is at the northeast end of The Mohican Valley Trail and is the location of The Bridge of Dreams. One day this section will be paved trail but for now it is one of the toughest sections and there is one spot where it is easy to get lost. Remember that the Ohio to Erie Trail is a dream effort organized by volunteers and its progress is constantly evolving. Do not expect clear signage at this time. Plans are in the works to improve signage along the entire length of the Ohio to Erie Trail but for now you need to know the route yourself. Make sure to bring enough water. I do not recall seeing anyplace to get water in this section. It took us about 3 hours. Others will be able to do it quicker. For us it was early in the 2012 tour and early in the season. We were heavily loaded and this was day 3 of 21!
(In 2013 it took us 2 1/2 hours.)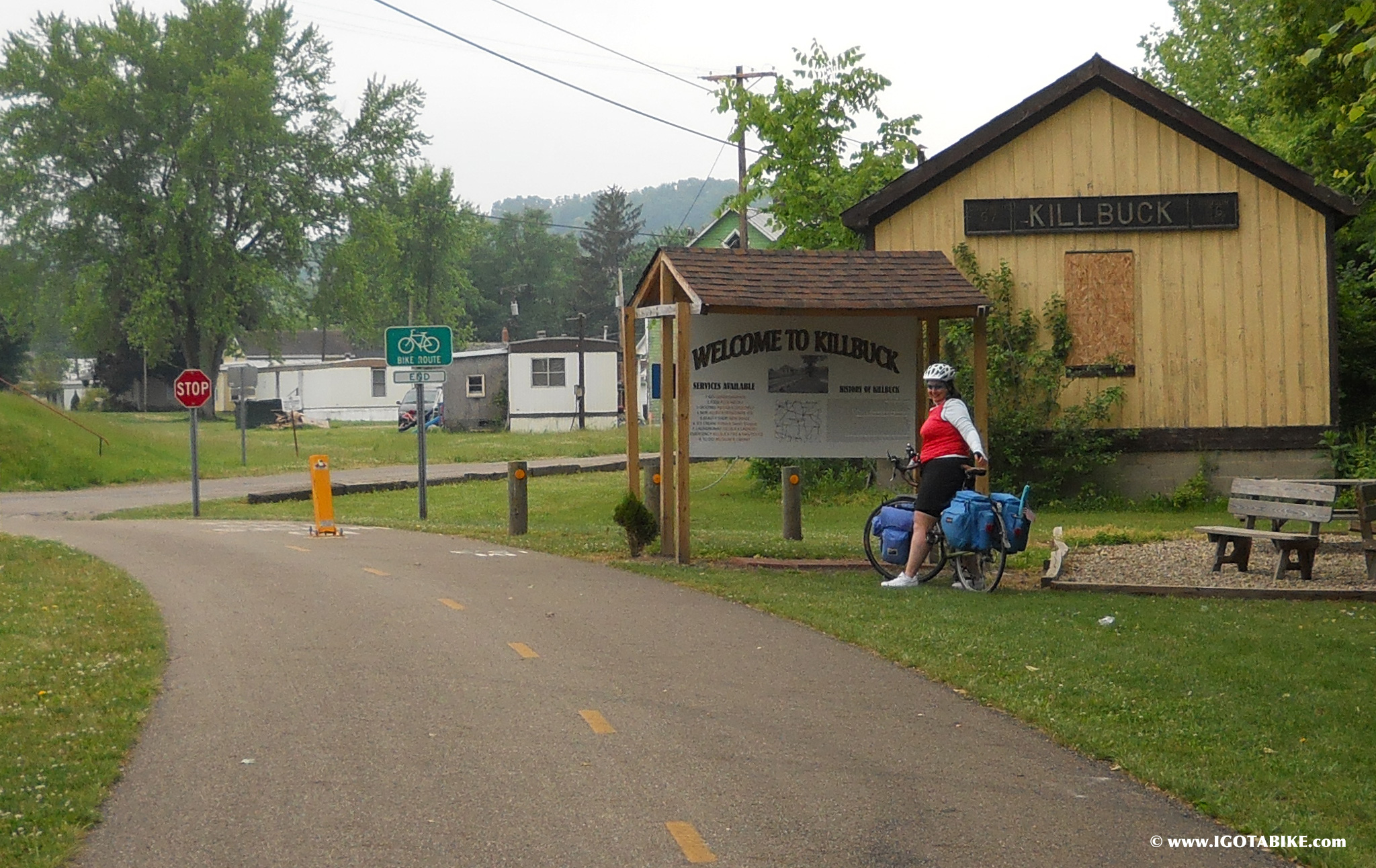 SOUTHBOUND
The route going south out of Killbuck is easy to navigate. When the Holmes County Trail ends turn right and follow Main Street. You will see a gem of a food stop, Killbuck Sweete Shop. They were friendly and generous with their water and ice. You can get ice cream or homemade food. Check this delicious burger! There is also a grocery store.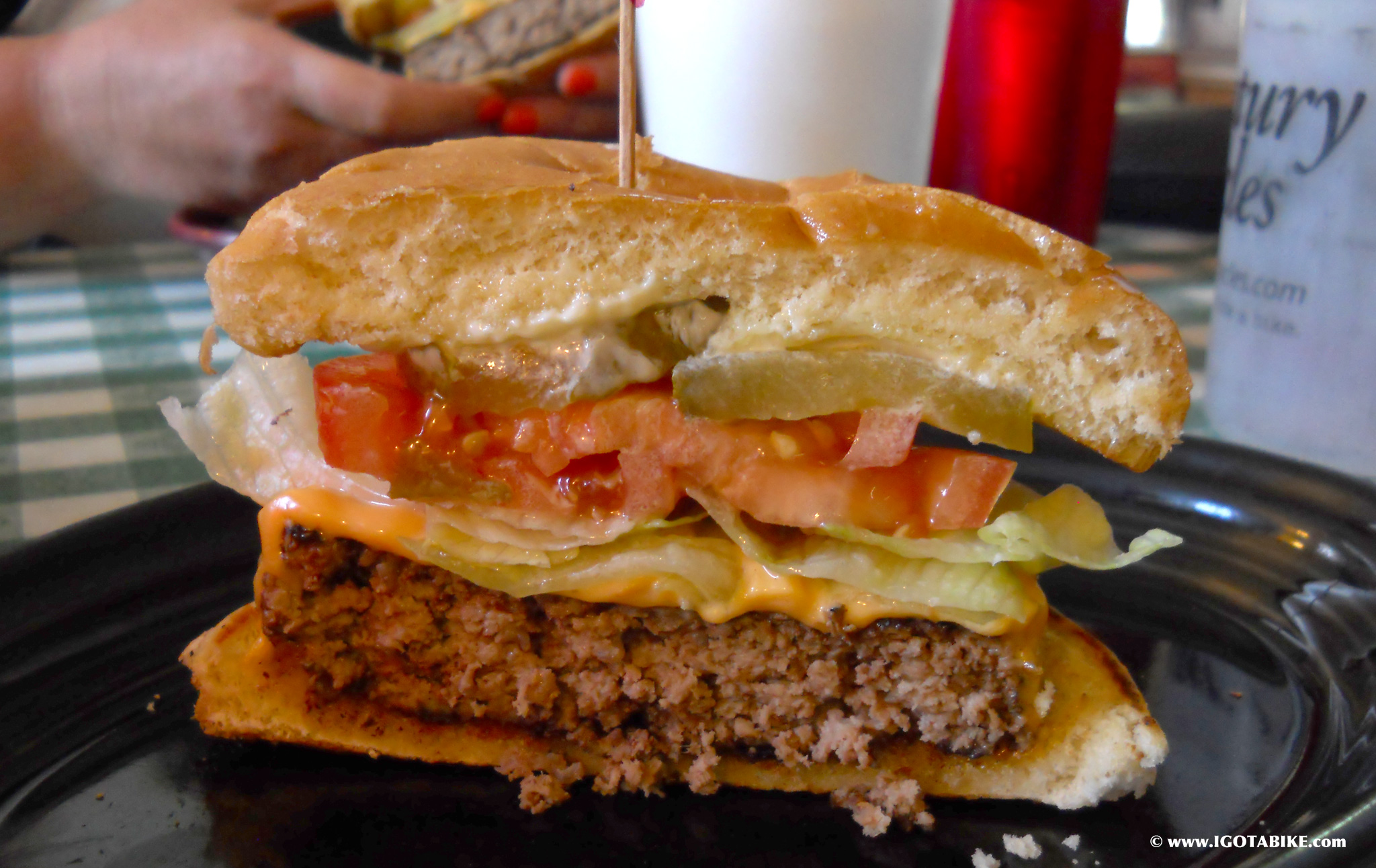 Turn right onto County Road 621 to cross Killbuck Creek. Turn right onto State Route 520 for a short distance to turn left onto County Road 6. Downshift, all the way. In my memory this was the steepest and longest climb of the entire tour. I made it 1/3 of the way up and had to walk the rest.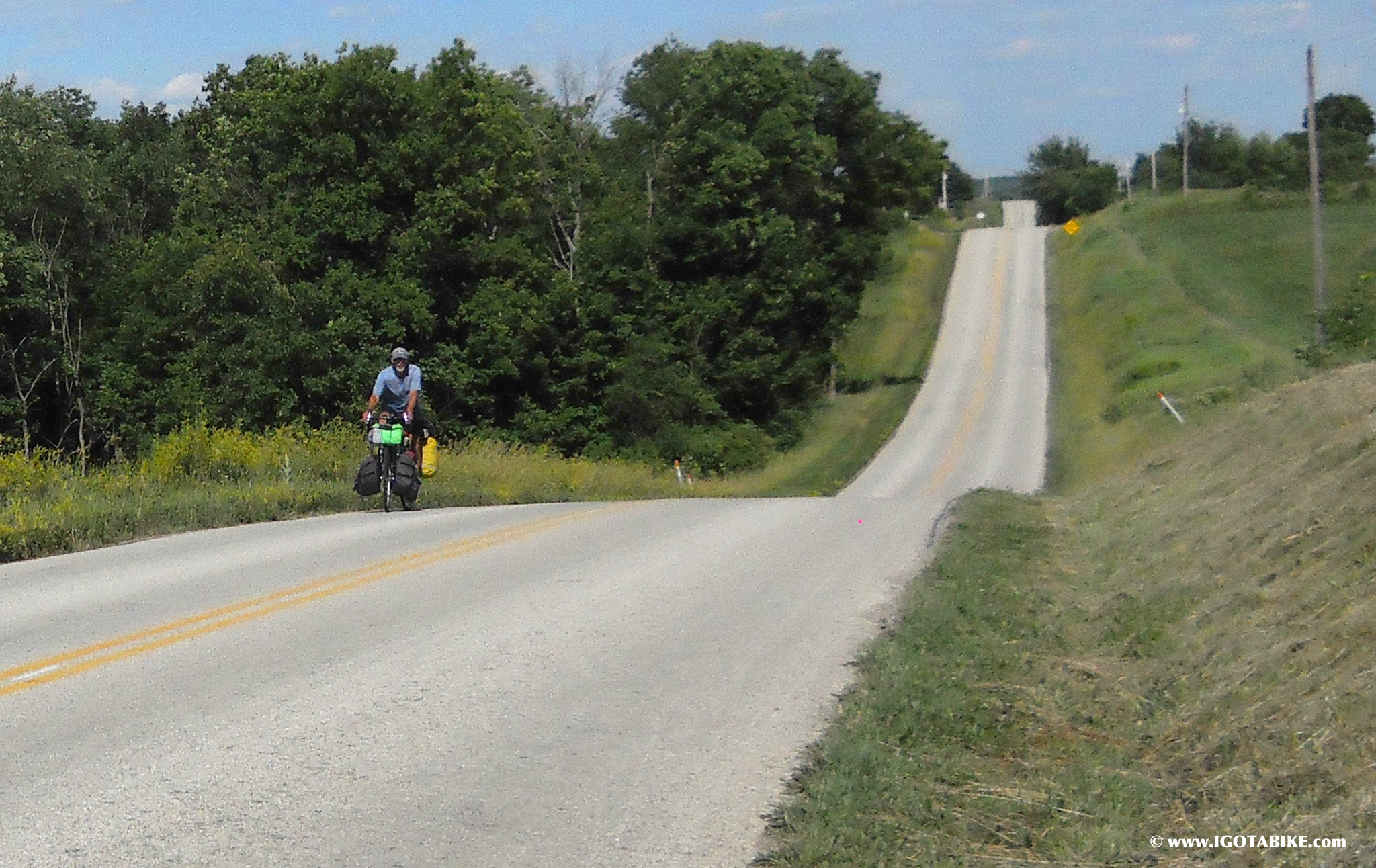 We met this fella and he had just rode up it all the way up. He had a giant load and he had been on tour for just over a year and looped the United States. He is from Cincinnati and plans on writing a book. We hope he e-mails us. This photo shows the rolling ups and downs of County Road 6.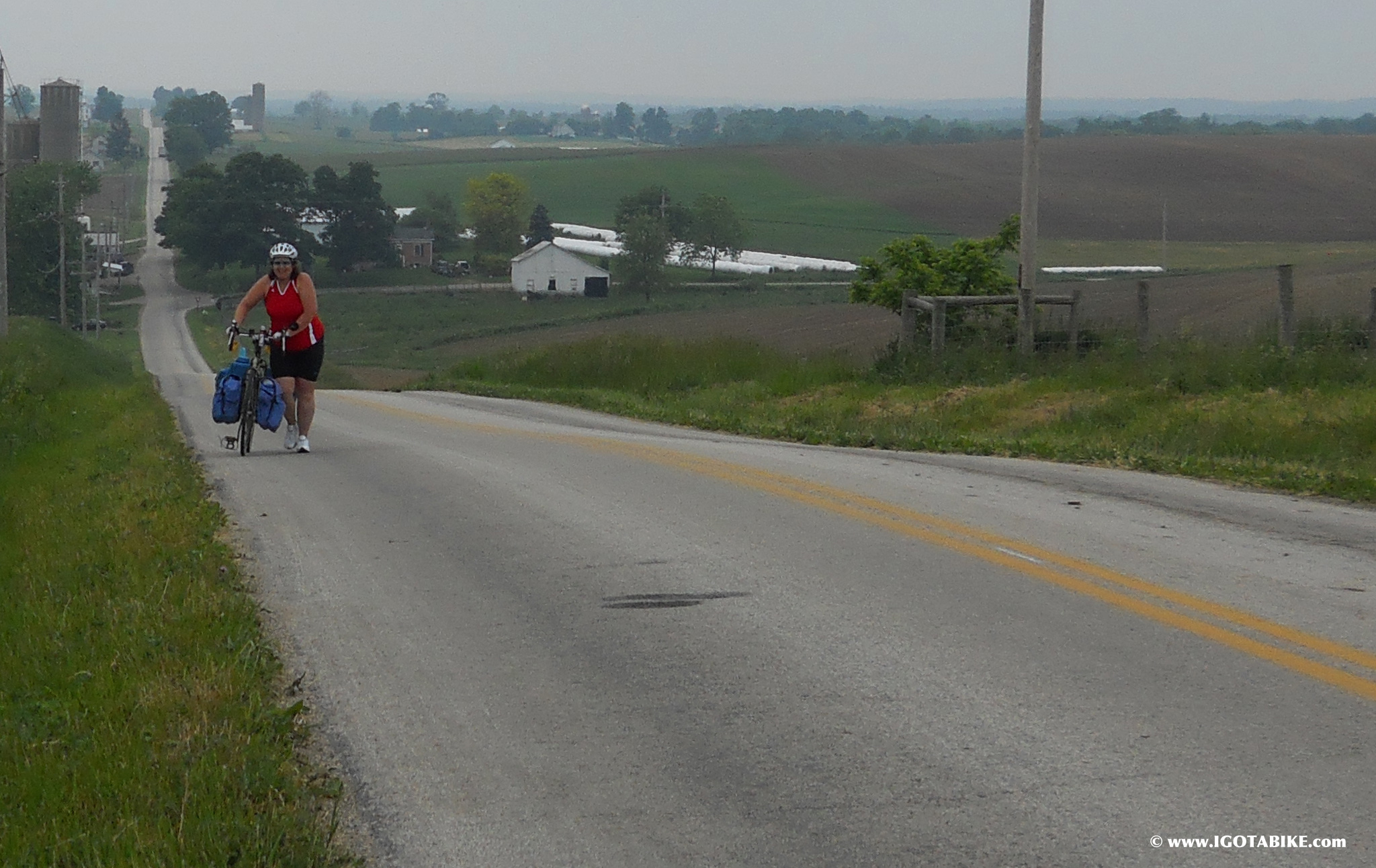 For the most part you can get enough momentum on the downs to have enough steam for the ups. I walked this one. Thank goodness it was cool and cloudy. Pushing a loaded touring bike is no bargain!
You will come across a statue factory. I wanted to get a concrete donkey but Guy said no. This is where you bear left and uphill onto County Road 25.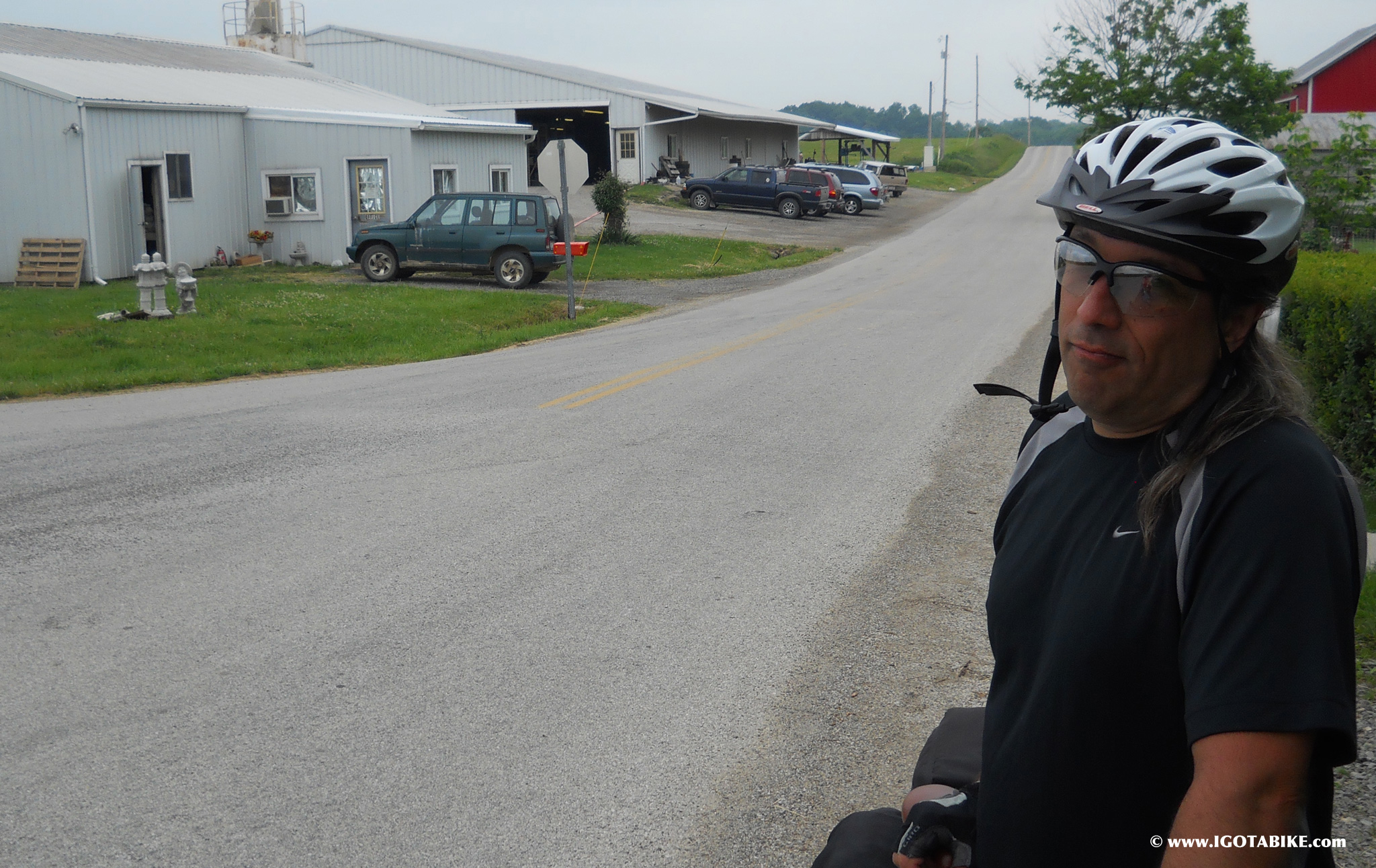 You need to make a hard left to continue on County Road 25 at the intersection of County Road 75 (on your right) and Township 13 (straight). There is a beautiful historic home on the corner.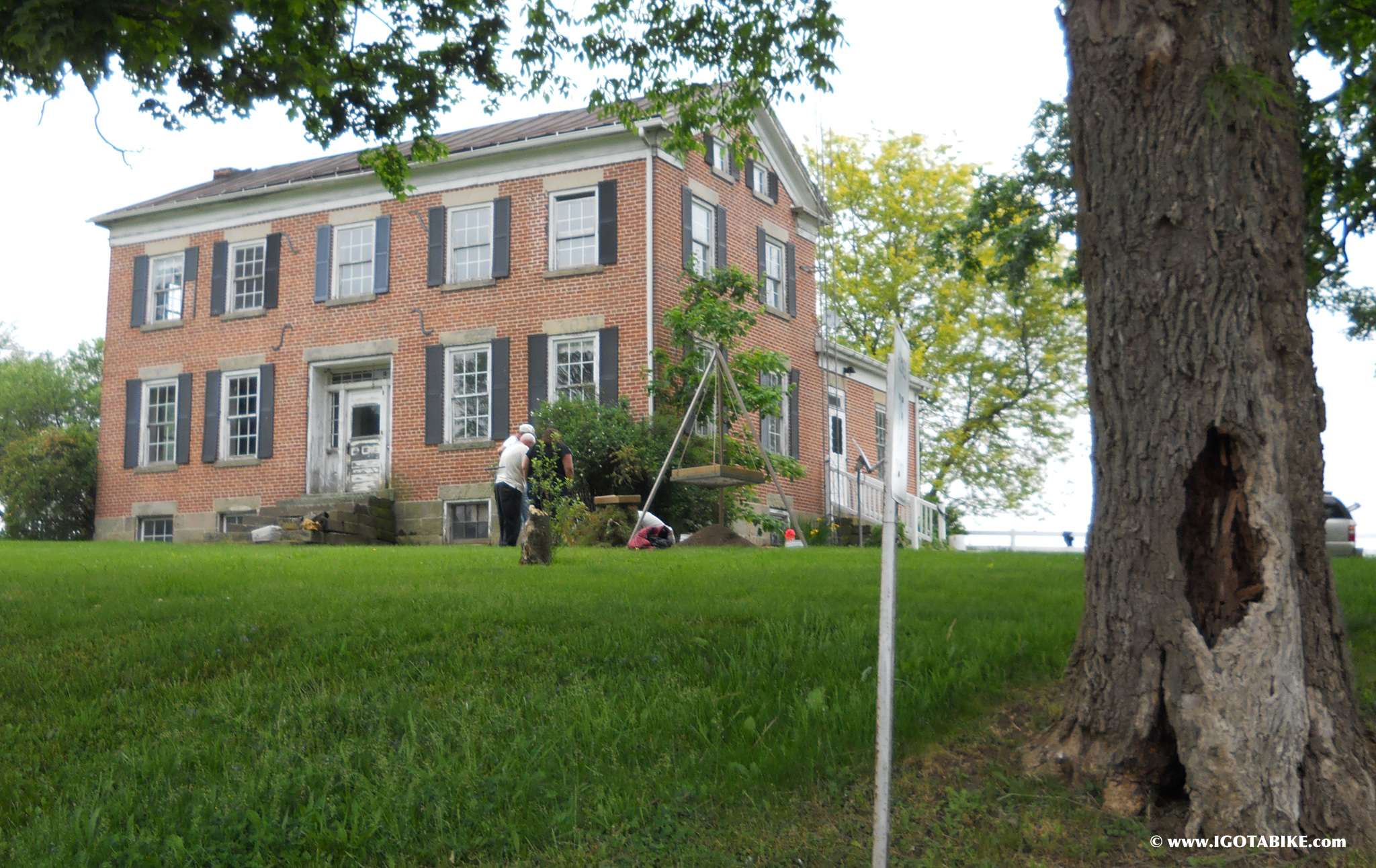 The next place to turn is onto US Route 62 also know as Millersburg Road. Take a break here and gear up. Its a long downhill stretch. There are big trucks and its 55 MPH. Watch out for those buggy ruts. Guy writes about this section HERE.
At the bottom you exit Holmes County and cross into Knox County. Now you are just outside of Brinkhaven and soon you will come to The Bridge of Dreams. Here you will need to decide to use the bridge and the unpaved Mohican Valley Trail or continue on Route 62 to get into Danville. There are two significant hills to climb on 62 vs. lots of bumps and deep buggy ruts under the loose baby powder like dirt trail. Remember it is only 4 miles and on the other side is the fabulous Kokosking Gap Trail!
This is where we met Rick and Briley
NORTHBOUND
We used US Route 62 instead of the Mohican Valley Trail going north and it was fine. It was around 2 o'clock in the afternoon and the traffic was light. There are lots of buggy ruts. The climb up Route 62 to County Road 25 was significant but doable. Remember to bring enough water for a couple of hours of hilly terain.
The intersection of County 25, County 75, Township 13 is tricky going north. There is no sign to tell you to turn right to continue on County 25. See photo of historic house above. (Note: in 2013 they installed a sign for CR 25 at this intersection but the historic house is still a good landmark). Pick up CR 6 at the concrete statues. This section is easier going north, or I was stronger. Be ready for the last big downhill to State Route 520. It is steep and of course there is a stop sign at the bottom. Turn right onto State Route 520. Turn left onto County Road 621 to cross Killbuck Creek. Turn left on Main Street to get to the Holmes County Trailhead in Killbuck.