Bikers put Holmes trail on map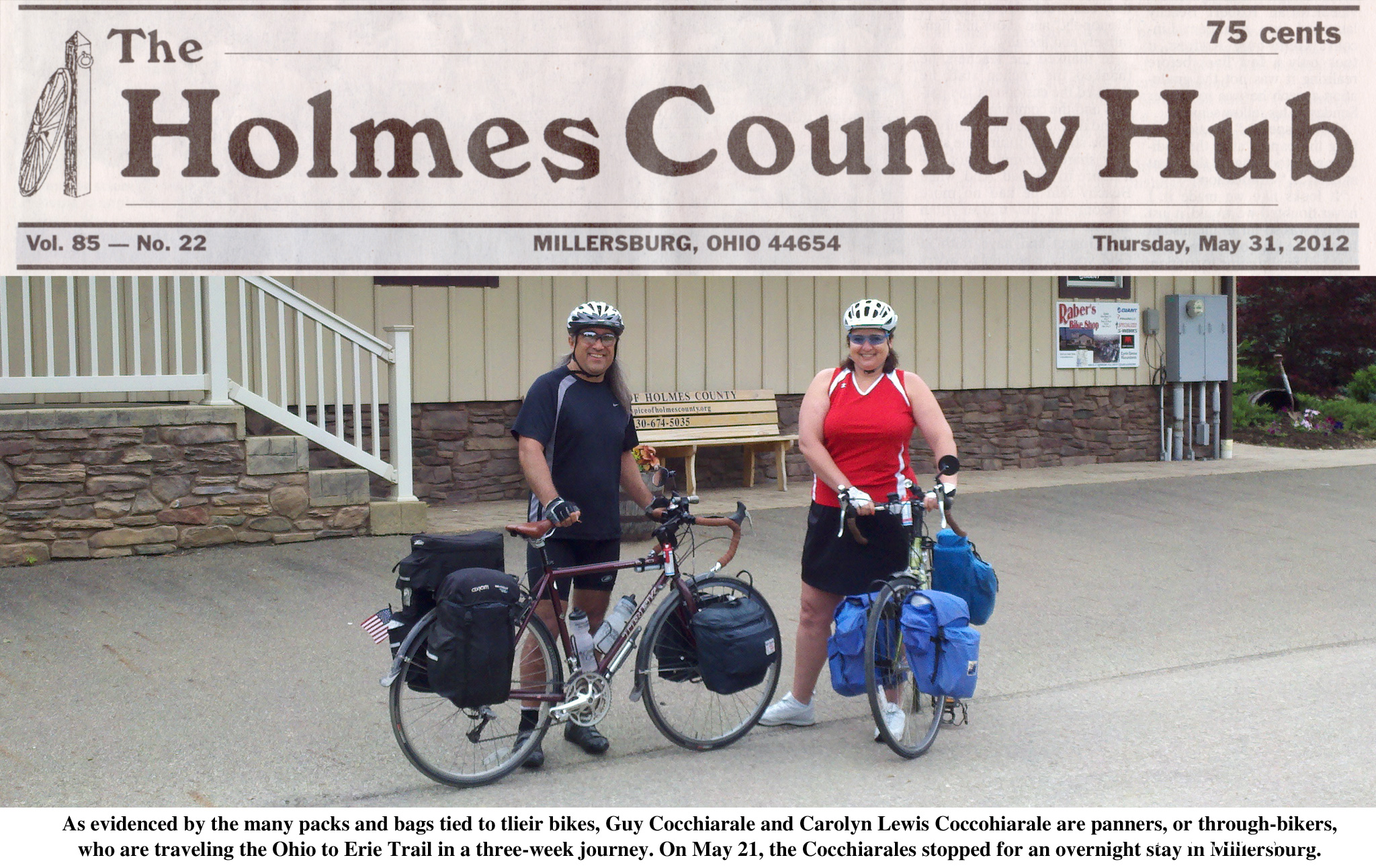 MILLERSBURG — "Up sluggard, and waste not life. In the grave will be sleeping enough."
This motto, from the inspiring Ben Franklin, has motivated one couple to take a very
different sort of vacation this spring — A riding tour of one of the state's longest
bike trails.
Husband and Wife duo Guy Cocchiarale and Carolyn Lewis Cocchiarale have embarked
on a tour of the Ohio to Erie Trail, leaving from their home in Cleveland on May 19
to ride the entire length of the trail on a fact-finding expedition.
"We're trying to raise a ruckus about the trail," said Guy. "There's nothing like
walking out of your front door, locking it, getting on your bicycle and that's it.
There's no way back home unless you ride."
And that's just what they did, locking the door on Saturday to ride the The Ohio to
Erie Trail is an off-road trail stretching from the Ohio River to Lake Erie,
spanning the state from Cleveland to Cincinnati following paths of former railroads
and canals and passing through numerous rural areas, farmlands, nature preserves and
parks.
Along the way, the two stopped for overnight stays in Stowe, Massillon and on
Monday, Millersburg. After a 10.5 hour day of riding, the dusty travelers arrived at
the Hotel Millersburg.
Stopping in Millersburg was determined by one ever-important factor, said Guy.
"It's determined by places you can stay; You have to go from point A to point C,
going through point B in the middle," he said, noting that there are several
amenities that make a town rider-friendly.
These include providing safe, dry places to secure bikes, food, water, places to
stay and, he said, beer.
In fact, these amenities will have cyclists using the town as an oasis, he added,
because "you are going through as a different kind of tourist. It's a subcultural
thing that is injecting money into any local, small economy like this.
The Holmes County Trail offers many perks to this subculture of travelers, said Park
District Director Jen Halverson, noting that the Cocchiarales enjoyed the shade and
smooth, flat surfaces the trail offers.
"They appreciated what we've done here," said Halverson, adding that as more
sections of the trail are finished, even more through-bikers will be drawn to the
area.
"As connections are made between different trail systems, or as more routes become
bike friendly and trail user friendly, I think we're going to see more people do
this, I think we're going to see more people coming through this area by this method
of travel as opposed to regular car travel," she said.
Many of these cyclists are already out on the trail, said Carolyn.
"Since we've been on the road since Saturday, we've meant six other groups of
through-bikers. It's a whole different category of people who have different needs,"
she said. For example, "When we arrived in Fredericksburg, we were completely out of
water and we had peanuts to eat. We were desperate. So if you know that there is an
oasis ahead, it gives you momentum … in some of these small towns, you get a
hardware store and a post office and there is no place for food."
After Millersburg, the two were heading to Mount Vernon, Columbus, London,
Waynesville and, finally, Cincinnati, and back again.
Besides taking an adventurous vacation, the couple plans to accomplish something
with this trip.
Charged with the task of designing an official updated Ohio to Erie Trail map, the
pair also hopes to create an interactive trail guide and mobile app to accompany the
map "so that other people can do what we are doing because a map needs things like
access points, restrooms, places to eat, sleep and rest," said Carolyn.
The Holmes County Trail, which the two call "the Amish highway," has the added
benefit of traveling through the heart of Amish Country, where they enjoyed passing
buggies, comparing Amish gardens and biking on a trail that reads "No Horses This
Side" every few miles.
While the Holmes County Trail is unique, the bikers find that each connecting trail
in the Ohio to Erie Trail has something to offer.
"What's so unique and special about the Ohio to Erie Trail is that it's combining
all of these different trails and all of these different groups and friends of this
trail and friends of that trail. Just like the Holmes County Trail, there are people
who love it, but all across the state," said Carolyn. "It's like the United States,
instead of states you have these county groups and they are all joined together in
this one unique cause to make a greenway from Cleveland to Cincinnati."
To allow people to follow their progress, the Cocchiarales created a riding blog to
post personal anecdotes and photos from their route.
The name — igotabike.com — invites anyone with a bike to take the trip.
"All you need is a bike.You don't have to be an athlete, you don't have to be a pro,
you don't have to be a billionaire. Anybody can do this. You got a bike, let's go,"
said Carolyn.
"It's to let people know how accessible it is, how friendly the people are and how
easy it is to do, and fun. We're not athletes, we're just normal people and it's
doable," she said. "There is something really fabulous about not turning back. It is
a different mindset. When you are a through-bike, there is this phenomenal sense of
freedom."
The two aim to return to Millersburg in time for the Rails-To-Trails Benefit Auction
on June 8-9. To follow the Cocchiarales' progress, go igotabike.com.
Reporter Kelley Mohr can be reached at 330-674-5676 or kmohr@the-daily-record.com.
Reprinted with the author's permission.
The Holmes County Hub is a weekly Holmes County publication produced by the Wooster Daily Record.