The Grunge Brush by Finish Line
Price Paid: $15 +/-
Grade: A
Link: www.finishlineusa.com/products/grunge-brush
The Grunge Brush by Finish Line is a really simple but useful tool. Carol saw it and bought it before the guy at the bike shop could even tell her about it. If you ride the limestone canal bike trails, you absolutely need to clean you chain and drive train on a regular basis. We took ours on our Ohio to Erie trail tour because a lot of t hat trail is limestone, dirt, or worse. It's super easy to use; just dip it in some of your favorite degreaser, hold it so the chain runs through the brushes and turn the crank arm.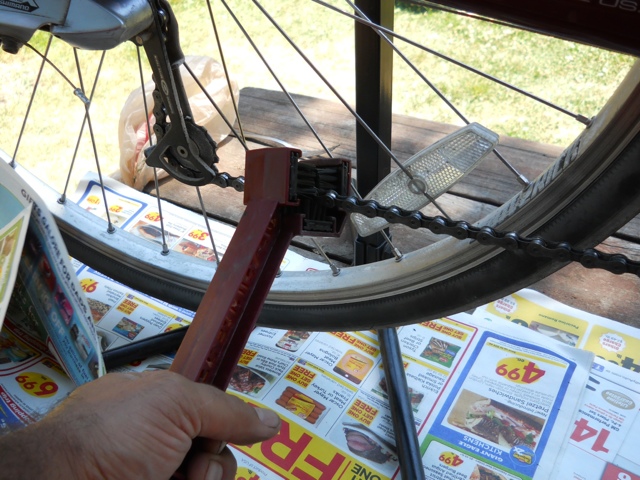 You can easily get several different angles on the chain to get it thoroughly clean. At the butt end of the tool are some longer, thinner, stiffer bristles for cleaning the chain rings, cassette and idler gears.
This thing works great and is light weight. We used to use the clamp on style cleaner with the little fluid reservoir at the bottom. That thing was fussy, had moving parts and used too much degreaser. This works way better.
By the way, my degreaser of choice is plain old gasoline. I've tried lots of other stuff, but nothing beats gas. Just my two cents!
Oh, one more thing… when you're cleaning your chain, lay some old newspapers down, its gonna splatter!