Review of Massillon
The place to stay in Massillon is the Hampton Inn. We have stayed there at least three times and it is very convenient to the trails. It is only one block from the Sippo Valley and Towpath trails. The staff is friendly and accommodating and they LOVE bicyclists!
Every room has a fridge and a microwave. Bikes are allowed in rooms. Rooms are in the $120 range.
Other things to note:
– Free Breakfast
– Free wifi
– No pool at hotel, but the Massillon Rec Center is five blocks north.
It is Free for hotel guests and has multiple pools, including a lap pool.
– No Laundry
– One block from trail
– Drug and grocery stores one block
– Fast food, BW3, Rockne's…
There is a drive through beer store across the bridge. It's within walking distance. Less than a half mile.
There is a liquor store across Erie street, just across from hotel garage entrance.
Click the link below to book your room now!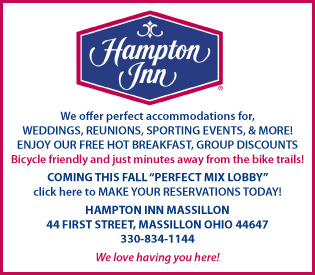 We've had good food at both of these places very near the hotel:
Kozmo's Grille
Right across the street from the hotel. Has a bar and really good food. Click their ad below!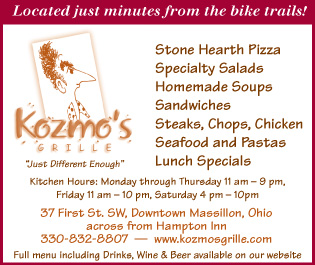 Smiley's Ristorante & Pizzeria
– One minute walk
– Italian New York style
– Beer
– Good carry out
Picture from our Hampton Inn hotel room window, looking west, shows trails, stores, and fast food. The Towpath trail is running horizontally just below the trees in the background. The bridge on the left leads over to the Sippo Valley trail and the drive thru. The parking lot in the foreground has the BW3 and Rockne's. Across the street is McDonalds, the grocery store, Rite Aid. The yellow brick building in the foreground is Kozmo's Grille.