OK. We are in London, Ohio. There is so much to catch up on. Let me start by saying we have been made guests of Alexandra's Bed and Breakfast. The house was built in 1873. I'm not sure how many rooms… At least eight, I would guess. The cool thing is the bicyclist hostel in the old carriage house in the back. There are about a dozen bunk beds, bathrooms and showers. There is secure bike parking inside. It's only $25 a night and $5 more for breakfast. Very cool.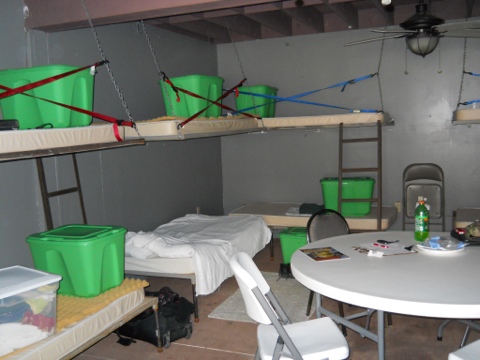 Each green box has bath towel, robe, sheets, pillow, etc.
OK. Let's go back a bit. I'm gonna use the photo album as a time guide. I think this was yesterday. Carol will correct me


We left Mt. Vernon and stopped for a sandwich just outside of town. I love hand painted signs…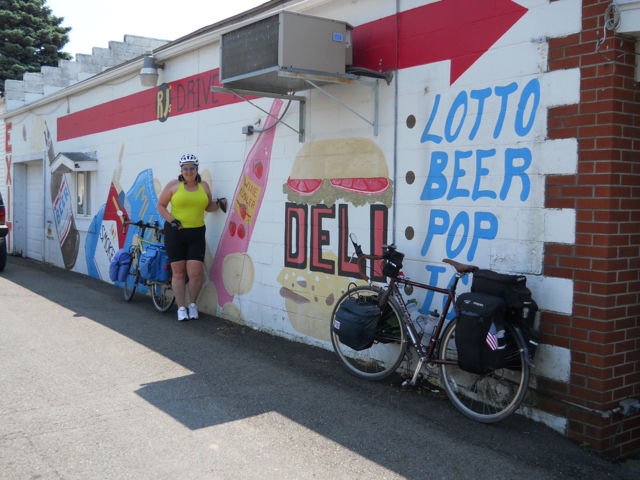 After that. We had some serious riding down Rt. 3/36. We were searching for the newly paved sections of the Heart of Ohio trail. It took a while to find.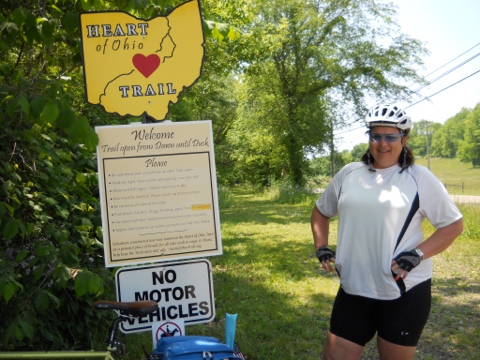 Notice the trail is still GRASS at this point. It took some exploration up and down 3/36 to find the asphalt, but once we did, it was seriously awesome! It was SEALED asphalt. Smooth, like a baby's butt!
In a while, we found this cool 3 sided hut built by Boy Scouts. I wish there were more of these set up for camping along the trail, like along the appalachian trail.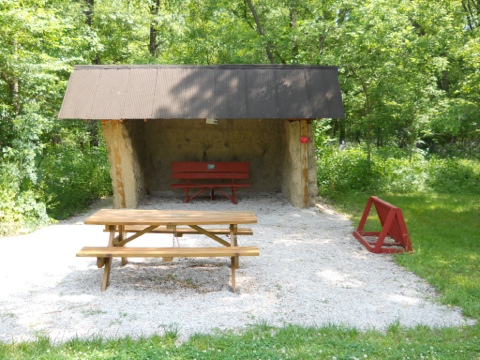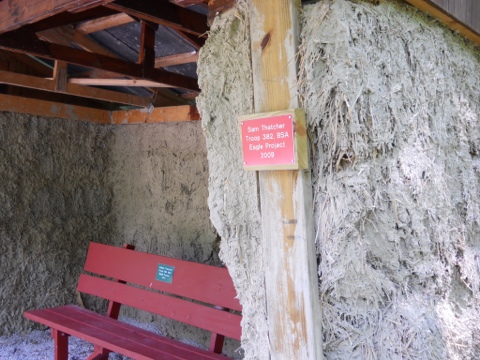 After that we ran into some great women running a local library in Hartford, outside of Croton. The library exists solely on private donations. Nothing from the government! Looks th em up and send them a buck!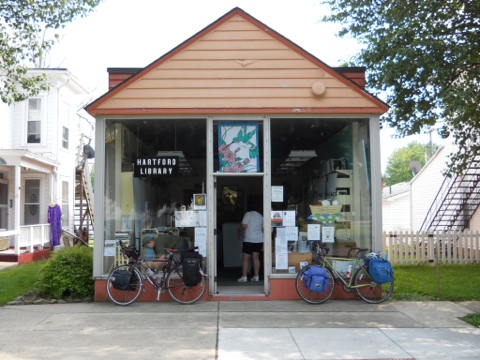 That night we stayed at the home of the gracious Jerry Rampelt and his wife Toby,along with their great young dog, Buddy.
Jerry is a mover and shaker of the Ohio to Erie trail Association.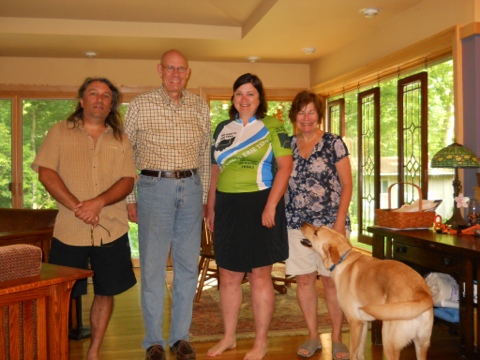 When we left Columbus today, we met our guiding angel, Scott, who helped us navigate the downtown maze of trails. Thank you Scott. We'd still be lost in the shadow of the Colosseum if not for you.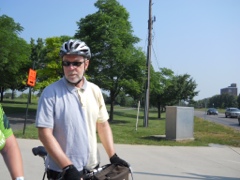 Here we are, dutifully posed in front of the Santa Maria, in our new Ohio to Erie trail jerseys.
Thanks Jerry!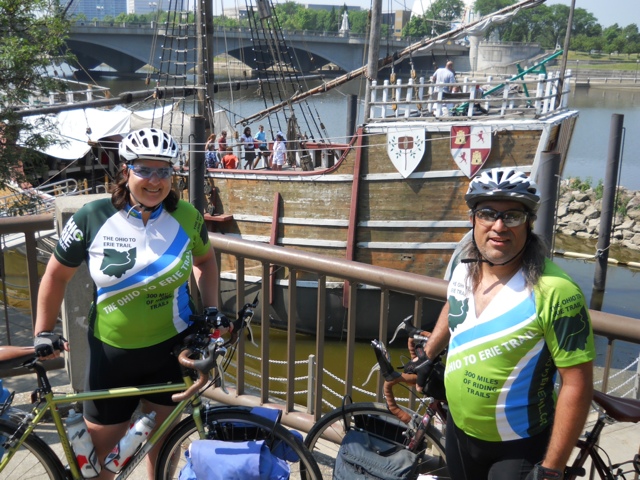 Below: local trail heroes Wayne Roberts and Gene Pass escorted us into London. We are taking a quick break in a new shelter west of Lily Chapel.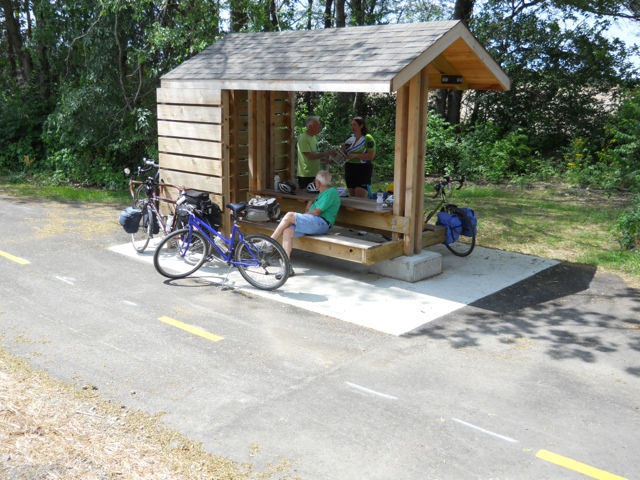 Here's a cool pic of us with the new signage long Roberts Pass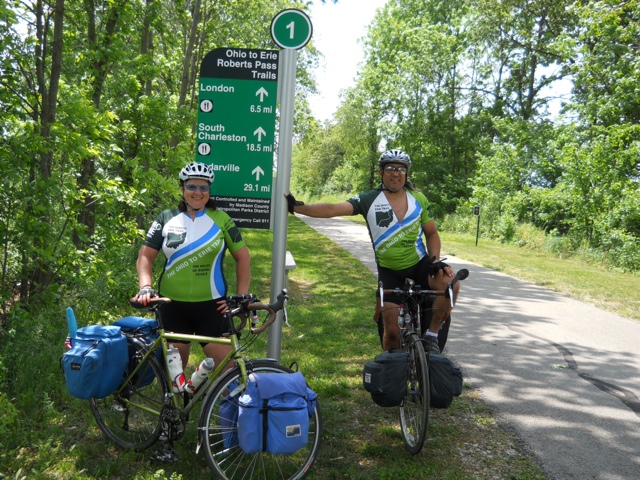 We capped our evening off with a great pasta dinner that we shared with Wayne at Scott Rothwells restaurant. Scott is a native Londoner and is striving to be bicycle friendly with his menu, beer selection and bicycle parking facilities. Scott is forward thinking, and sees the bike trails potential for the future of London. Visit him at Eat at Rothwells
We all had the Pasta Diablo… Zippy pasta with shrimp. I was drinking Brooklyn IPAs. Nice beer selection and expanding.
What a day! All that AND a headwind! I'm
Exhaustsed