We made it to Stow! 34 miles and we feel great!
We had a late start to the day, we didn't leave until 1:30. Problem was Carol forgot a key piece of personal gear. My sister Christina came to the rescue and caught up to us with it on the trail. Yay Christina!
By the time we really got rolling, it was already 3:30. And freaking HOT! Really hot. That really slowed us down. We stopped multiple times to cool down. The plan tomorrow is to start earlier, hide or sleep while the sun is high, then finish the ride in the evening.
Our late start was just cause it was the first day and we had lose ends at home to tie up before we left.
We are in a killer hotel with fridge, microwaves, balcony and they sell Dortmunder by the bottle in the lobby!
Right now we are at Brubakers, eating and drinking Commodore Perry.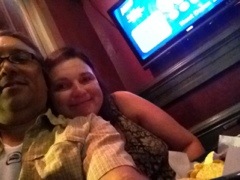 Our waitress, Kristen, has been awesome. The food is good too. Order something with chicken


Our plan is to upload some trail pix later… Maybe tomorrow…
Kasey at the front desk said today's weather was 83degrees with 62% humidity! She assured us tomorrow will only be 47% at 85 degrees. Sound like a much more agreeable day.
We'll see.